In Memoriam: Dr. H. Fred Troutt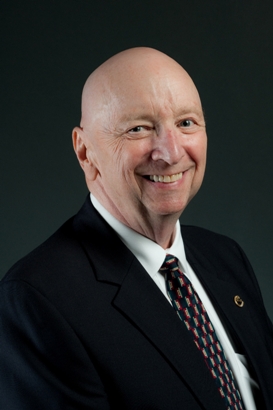 It is with great sadness that we acknowledge the passing of Dr. H. Fred Troutt, professor of veterinary clinical medicine, on December 4. Dr. Troutt's valued leadership and loyalty to our College, the University of Illinois, and the veterinary medical profession have benefitted many, and he will be greatly missed. Our sympathy and prayers go out to Fred's wife and family.
An obituary is posted online. Condolences can be offered at www.owensfuneralhomes.com.
Read a tribute to Dr. Troutt written by Mary "Tief" Tiefenbrunn, director of the Champaign County Humane Society.
A celebration of life for Dr. Troutt has been scheduled on January 15, 2011 from 1:00-4:00 pm at the Stone Creek Banquet Facility, 2600 S. Stone Creek Boulevard, Urbana (adjacent to Kennedy's Restaurant). Everyone is welcome to attend to and share their memories of Dr. Troutt.
Donations in Dr. Troutt's memory may be sent to:
Office of Advancement
University of Illinois College of Veterinary Medicine
2001 S. Lincoln Ave.
Urbana, IL 61802
Checks should be made payable to the University of Illinois Foundation. If you would like to make a donation using your credit card, please call the Advancement Office at 217/333-2761 or visit http://vetmed.illinois.edu/advancement/giving.html.
---
Recently, Dr. Troutt had completed a professional biography for our college website. We offer a slightly edited version of that profile here.
Dr. H. Fred Troutt was a graduate of the Pennsylvania State University and the School of Veterinary Medicine, University of Pennsylvania.  He practiced veterinary medicine for a number of years in Pennsylvania before joining the Department of Veterinary Clinics at Purdue University, where he also received a master's degree. 
As an NIH Special Postdoctoral Fellow, he earned a PhD in comparative pathology from the University of Missouri.  He then joined the faculties of Large Animal Medicine and Surgery and Pathology at the University of Georgia, establishing herd health programs for cattle and swine and teaching large animal medicine and pathology.

In 1975, Dr. Troutt was appointed head of the Department of Veterinary Science at Virginia Polytechnic Institute and State University, eventually serving as founding Associate Dean for Research and Service at the Virginia-Maryland Regional College of Veterinary Medicine. 

After holding academic and administrative appointments at the University of California-Davis, Dr. Troutt joined the faculty of the University of Illinois College of Veterinary Medicine, where he served as head of the Department of Veterinary Clinical Medicine from 1989 to 1999. He also taught clinical nutrition and large animal medicine and conducted research on the prevalence and control of food safety pathogens, especially related to dairy cattle. His statement of teaching philosophy was "I love both the challenge of working with bright young men and women and the opportunity to challenge them."

At the time of his death he had recently taken on the role of interim director of the Veterinary Teaching Hospital, injecting great vigor into raising the level of excellence for the teaching and service provided there.

Dr. Troutt authored or co-wrote numerous scientific papers and reports dealing with metabolic disease in cattle and infectious diseases (zoonotic) of cattle and swine.  He served as a consultant to academic institutions, industry, the World Bank and a variety of governmental organizations.  He was a diplomate of the American College of Veterinary Nutrition and an Honorary Diplomate of the American Board of Veterinary Practitioners.  He was the recipient of the Norden Distinguished Teaching Award and the Award for Excellence in Preventive Medicine from the American Association of Bovine Practitioners.

Dr. Troutt devoted years of service to professional veterinary and governmental animal health organizations.  He was chairman of the Council on Education of the American Veterinary Medical Association (AVMA) and was a member of the AVMA Strategic Planning Committee as well as the Steering Committee on Antimicrobial Resistance.