Veterinary Behavior at Illinois
Veterinary Behavior at Illinois
We are committed to providing evidence-based, humane, and non-confrontational treatment for serious behavioral issues in dogs and cats. The goal of our behavior consultations is to help you understand your pet's behavior and help you live together more safely and comfortably.
Behavioral issues treated at our clinic include:
Aggression to people and other animals
Fear of people, other animals, noises, and/or walks
Separation-related behaviors
Compulsive disorder
Self-injurious behavior
House soiling issues (cats and dogs)
Cognitive dysfunction and senior pet behaviors
Excessive barking or meowing
Preparation for major household changes (such as moving or a baby's arrival)
Behavior Consultations
We provide consultations for canine and feline behavioral problems. Consultations typically last 1 1/2 to 2 hours and involve collecting historical information, observing the pet or pets, establishing a diagnosis, and developing a personalized treatment plan. In some cases, additional diagnostic testing may be recommended during the consultation.
Phone and email support with our behavior technician is provided at no additional charge to assist you in implementing the recommendations provided during the consultation. When additional recommendations are indicated, a phone or in-person recheck appointment may be required.
Most patients return for one to three recheck appointments during the first year of treatment. Recheck appointments are typically 30 to 60 minutes long and occur at two- to three-month intervals, depending on the needs of the pet and family.
Please allow two business days for responses to this form. See below for direct email and phone information.
About Us
Kelly Ballantyne, DVM, DACVB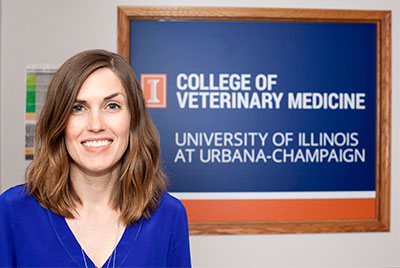 Dr. Kelly Ballantyne graduated from the University of Illinois College of Veterinary Medicine in 2005. She started her career as a primary care veterinarian at a practice in Oak Park before joining the University of Illinois's veterinary practice on Harrison Street in Chicago. In the fall of 2008, she began a veterinary behavior residency under the mentorship of Dr. John Ciribassi and in 2015 became board-certified in the American College of Veterinary Behaviorists.
In addition to consulting on behavioral illnesses in dogs and cats, she and Kristin Buller, LCSW, are conducting research on how having a pet with behavior problems impacts an owner's life. Dr. Ballantyne also teaches companion animal behavior at the University of Illinois College of Veterinary Medicine.
In her free time, Dr. Ballantyne enjoys spending time with her husband and their Rhodesian Ridgebacks, Bludger and Tonks, and cat, Aengus. She loves to travel and her hobbies include cycling, gardening, knitting, snorkeling, and SCUBA diving.
Tiana Daniels, CVT, KPA CTP
Tiana Daniels attended the Vet Tech Institute at Fox College where she earned her associate degree in applied animal science in 2012. She started her career as a certified veterinary technician working in general practice for several years before joining the behavior team. Having a strong interest in animal behavior, she signed up for the Karen Pryor Dog Trainer Professional program to learn more about animal behavior. She completed her certification in July 2016 and is officially a Karen Pryor Academy Certified Training Partner.
Her goal is to teach owners how to help their pets through positive reinforcement training and behavior modification.
In her spare time, Tiana loves spending time with her daughter and taking care of her guinea pig, Payton. "In the photo is my boxer/pitbull mix named Dakota who recently passed. Dakota was a special dog that taught me a lot when working through her day to day challenges. She will be dearly missed."
Fees
Behavioral consultations (new patients): $250/hour
Recheck appointments (current patients): $200/hour
Follow-up phone consultations (current patients): $200/hour
Behavior modification appointments (current patients): $85/session
Additional fees will apply for any diagnostic testing, medications, or products
A non-refundable reservation fee of $125 will be collected when scheduling an appointment for a new patient; this payment will be applied to the cost of your pet's consultation at the end of the appointment
Contact Us
You can contact us by emailing behavior@vetmed.illinois.edu or by calling (312) 226-2588.
Veterinary Behavior at Illinois is located at 2242 W. Harrison, Chicago, IL 60612. We are in the Illinois Medical District just west of Chicago's downtown Loop and one block south of the Dwight D. Eisenhower Expressway (I-290) at the Oakley/Western Avenue exit.
Learn More about Behavior Issues
Explore our resources and an archive of articles and videos related to veterinary behavior.
FAQs
Read FAQs about veterinary behavior in general.
Testimonials
Read what people have to say about their experience with Veterinary Behavior at Illinois.
Connect With Us
For more tips, advice, and articles related to veterinary behavior issues, like our Facebook page and follow us on Twitter!