Alumni Spotlight: Lynette Hemker (DVM '06)
In this spotlight series, we are featuring alumni speakers who are presenting at the 2016 Fall Conference for Veterinarians. Register now for Fall Conference or view other alumni speaker profiles; more will be added each week leading up to the conference!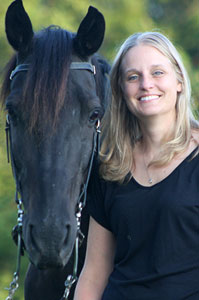 Lynette Hemker (DVM '06)
Co-Owner and Mixed Animal Veterinarian
Greenville, Illinois
Fall Conference Presentation
Why Didn't I Think of That? Practice Tips

What is your current position and how long have you held it?
I am currently co-owner and practicing mixed animal veterinarian at Greenville Veterinary Clinic in Greenville, Ill.  I began working at Greenville Veterinary Clinic after graduation and became co-owner in 2012.
What is your favorite memory from veterinary school?
Such good, fond memories. It's hard to narrow it down between Vetscapades, Testicle Festival, and traveling to conferences with classmates.
What do you enjoy doing outside of work?
Outside of work, I enjoy spending time with my family participating in outdoor activities such as horseback riding, roasting marshmallows, and boating.
Do you have any animals?
My husband and I have five horses, two dogs, and one cat.
What makes a great veterinary conference experience?
A great veterinary conference provides opportunities to network with colleagues and obtain quality CE.
Besides speaking at this year's Fall Conference, how do you stay connected to the College of Veterinary Medicine?
As a previous ISVMA board member, I visited the college each September for the ISVMA board meeting and student luncheon during my terms. In addition, our clinic hosts several fourth-year veterinary students for rotations each year.